Asesmen Nilai-Nilai Pariwisata Terhadap Fitur Geologi Daerah Bongo dan Sekitarnya Sebagai Dasar Pengembangan Geowisata di Pesisir Selatan Gorontalo
21 June 2020 12:21:58
Dibaca : 147
Kategori : H. Geo Update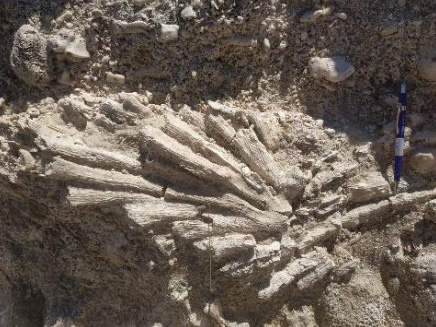 Coral limestone.
Geology is an important aspect in the development of tourism in an area. One of the attractions in a natural tourism location is certainly highly controlled by the geological setting in the area. The purpose of this research is to assess tourism values of geological features in the Bongo and surrounding areas as a basis for developing geotourism on the southern coast of Gorontalo. The research location is at coordinates N 00029'42" - N 00029'51" and E 12301'26" - E 12303'32". The method used in this study is a surface geological survey, which includes field data collection in the form of lithology, geological structure and geomorphology. The standard used for assessing tourism values is the technical guide for assessing geological heritage resources by the Geological Survey Center. The results showed that the lithology unit of the study area consists of granite, volcanic breccia and reef limestone. The geological structure in the research area is shear fracture with main stress that relatively directed to northwest-southeast. The geomorphic unit of the study area consisted of two units, namely volcanic hills, and marine units. The results of the assessment of tourism values on geological features explain that the Bongo and surrounding areas are included in the medium category. Improvements are needed on low value criteria, namely vulnerability, relationships with other values, and economic level.
Keywords: Geotourism, Geological feature, Tourism assessment.
Septian, Y., Ndangi, W., Manyoe, I.N, Taslim, I., Umar, E., Salama, T., & Napu, S. (2019). Asesmen Nilai-Nilai Pariwisata Terhadap Fitur Geologi Daerah Bongo dan Sekitarnya Sebagai Dasar Pengembangan Geowisata di Pesisir Selatan Gorontalo. Jurnal Azimut, 2(2), 146-154.