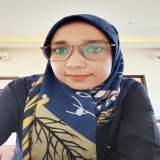 Fahria Malabar - 21 December 2012
Translation techniques, that may seem countless, were condensed to just seven in a increasing order of complexity. They are used on their own or in combination. The techniques analyzed in the work...

Salam - 18 December 2012
Setiap mengakhiri tahun masehi,,,khususnya bulan Desember,,,orang-orang yang berkecimpung dibidang keuangan pasti sibuk. Kesibukan itu karena harus menyusun laporan akhir keuangan yang dibelanjakan...